Bekakis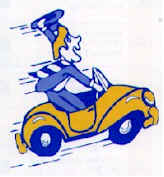 FREE KILOMETERS
VAT & C.D.W included

1 DAY

2 DAYS

3 DAYS

ADD. DAY

A

FIAT CINQUECENTO 900
14.690
28.250
41.245
14.000
B
FIAT PANDA OPEN TOP 900/ DAIHATSU CUORE
15.820
30.510
45765
15.000
C
NISSAN MICRA 1,0
FIAT UNO 1,0
16.950
32.770
49.155
16.000
D
RENAULT TWINGO /
OPEN TOP 1,3
RENAULT CLIO 1,2
18.050
35.030
52.545
17.000
E
NISSAN SUNNY 1,4 SLX
HYUNDAI ACCENT 1300
21.470
37.240
55.935
18.000
F
BEACH BUGGY
OPEN TOP 1,3
24.860
38.550
59.325
19.000
G
SAMURAI SUZUKI JEEP 4WD 1,3
25.425
42.810
59.325
20.000
H
MINIBUS MITSUBISHI 2,0 A/C
35.030
67.800
91.530
28.000
GENERAL INFORMATION



1. Age requirement:
For groups A,B,C credit card holders minimum age 21, for cash renters minimum age 23
2. Driver's license:
A valid driving license held for at least one year is required.
3. Minimum rental:
One day. Every hour in excess is calculated at 1/5 of daily rate.
4. Traffic fines:
Tickets and attached administrative sanctions resulting from any violation of the Greek Traffic Law during rental period are borne solely by the renter.
5. Deposit:
Deposits for estimated charges are required at the beginning of rental with a minimum of 20.000 Drs. daily. No deposit is required from Credit Card.
6. Insurance:
The insurance included in the rates for public liability andproperty damage up to Drs. 37.000.000 and Drs. 7.000.000 respectively.
Collision protection is available at Drs. 2.500 per day, for groupA,B,C,D,E and F, Drs. 3.500 for group G. First 50.000 Drs. aredeductible excluding tyre and personal damage.
7. Taxes:All rates are subject to V.A.T.
8. Gasoline:
Gasoline consumption is payable by the renter.
9. Baby seats:
Available on request for children up to 3 years old, with a daily charge of Drs. 300.
10. Availability:
Car models are a according to original planning. Delivery problems however, may compel us to supply another vehicle in exceptional cases.
11. Delivery and collection charges:
Free in all towns. Out of the town charges for groups A,B,C, 80 Drs. per km., for groups D,E,F,G 120 Drs. per km. Night deliveries / collections 4.000 Drs. each.
12. Rates are subject to change without notice.



PAPANIKOLAOY 17
85100 RODOS
ิel.: +30 (02410) 24672
Fax: +30 (02410) 34710